| | |
| --- | --- |
| | |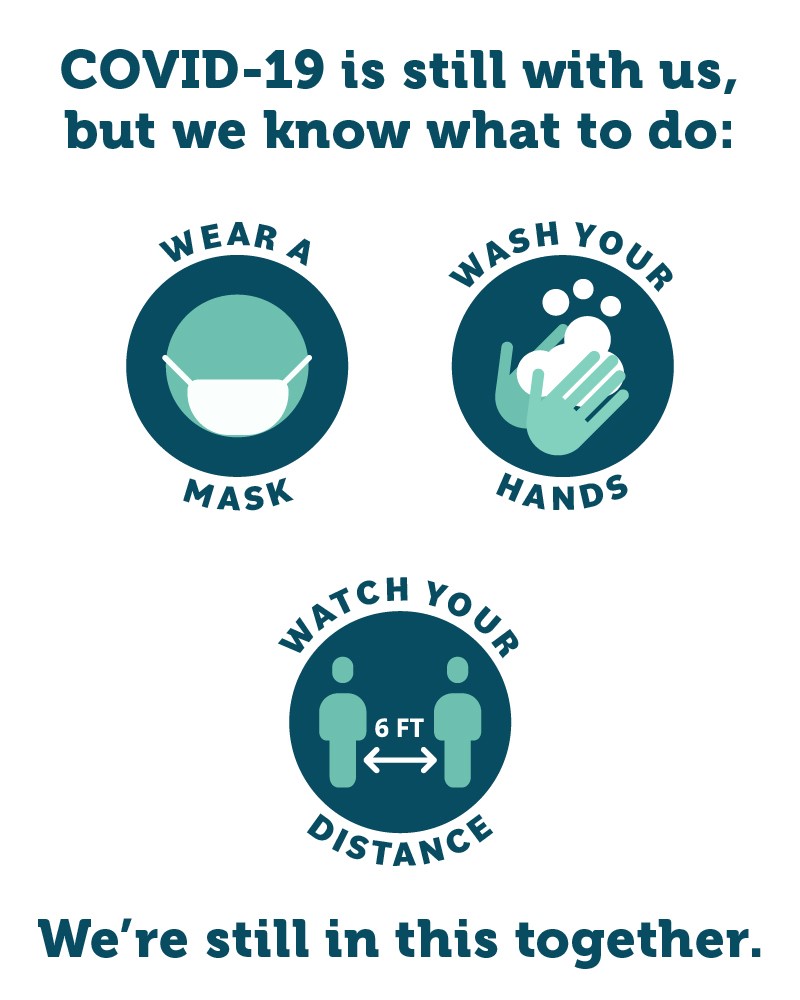 Who to Contact if You Have Questions
Do you have questions? The Illinois Department of Public Health (IDPH) has established a COVID-19 hotline and email address to answer questions from the public:
For additional information from the IDPH, visit: https://dph.illinois.gov/covid19.html
https://teamstersafety.org/covid-19/
The Teamsters Safety and Health Department provides resources to help our stakeholders and members connect and receive the appropriate information to solve problems.
---
Illinois Update
On Monday, February 28, 2022, Illinois lifted the statewide indoor mask requirement. Masks will continue to be required where they are federally mandated and in healthcare settings, long-term care facilities, congregate settings (prisons, shelters, etc.), and public transportation.
Additionally, due to the change in CDC guidance, masking requirements were lifted in daycare settings and will now only be required in areas of high transmission. Read the update from DCFS.
While masks are no longer required in most indoor locations, they do offer an additional layer of protection especially for those who have an underlying health condition or are around those who do.
Read the full Executive Order.
---
CDC Update
The CDC recently updated guidance around mask wearing to help people make decisions about when to wear a mask. The CDC recommends masking based on the new COVID-19 Community Level framework. This framework factors in COVID-19 hospitalizations, hospital capacity, and cases within a community.
The CDC's masking recommendations are based on COVID-19 community levels. The three community levels are low, medium, and high. Lake County is currently in the low level. Visit the CDC page COVID-19 Community Levels to read more about the new guidance.
---
COVID-19 Resources
Visit our

AllVax Frequently Asked Questions

page to find answers and information about the COVID-19 vaccine in Lake County. Encourage members of the community to register in AllVax utilizing resources from the

AllVax Portal Toolkit

, including social media messages, guides, print materials, and more.
Community Guidance and Resources
Protect yourself and your community. Our Community Guidance and Resources page has information to help residents stay safe and informed.



Public Health Navigator Program
If you or someone you know is struggling with meeting their health and other needs, the Lake County Health Department is here to help! We have two new teams of Case Managers and Community Health Workers dedicated to helping community members access and utilize the resources and support they need, including:
COVID-19 vaccine education and sign-up

Access to medical care

Health education and support

Food and medicine delivery for families in quarantine and isolation

Transportation assistance for medical visits

Access to food support

Rent and utility assistance

Mental health support

Immigration support

And more!
All services are available regardless of your insurance or immigration status. To get connected, call (847) 3778444 or email HLCommunityHelp@lakecountyil.gov.
Get Involved
Join the Medical Reserve Corps
The Lake County Health Department is in need of volunteers with a valid medical license to fill roles as vaccinators, vaccine mixers, and wellness check observers at our mass vaccination sites. Visit our Lake County Medical Reserve Corps page to learn more.
Become a Community Health Ambassador
Community Health Ambassadors play a key role in helping our community members get vaccinated by sharing resources, answering FAQs, and encouraging community members to register on AllVax. Visit the Community Health Ambassador page for more information and to register.
Additional Ways to Help
Visit Lake County Health Departments How You Can Help page to find additional opportunities to donate or volunteer.
Useful Links
Five-Day Isolation & Quarantine for New Cases
Starts Feb. 1
Chicago Public Schools (CPS) will begin to implement the most recent federal, state, and city isolation and quarantine guidance, moving from a period of 10 to five days for those staff or students who test positive for COVID-19 or are unvaccinated close contacts on Feb. 1 or after.
From the onset of the pandemic, the District has followed the guidance and recommendations of the Centers for Disease Control (CDC), the Illinois Department of Public Health (IDPH), and the Chicago Department of Public Health (CDPH).
A shorter isolation period is now recommended because the majority of COVID-19 transmission "occurs early in the course of illness, generally in the one to two days prior to onset of symptoms and the two to three days after," according to the CDC. Also, the time between exposure to the virus and when symptoms occur is shorter than previously understood– especially for the Omicron variant. At the same time, safely shortening the isolation/quarantine period provides more certainty to parents, students, and staff, and will allow impacted students to return to their classrooms more quickly for the in-person learning that gives them their best opportunity for success.
Like the current procedures, the move to a five-day quarantine will impact students differently, depending on COVID-19 vaccination status, symptoms and confirmed infection, as follows:
Children who test positive for COVID-19, regardless of their vaccination status, will need to isolate and learn at home for five days rather than 10. If the child still has symptoms after day five, they should continue to isolate at home until Day 10. If the child no longer has symptoms after day five, the child will be free to return to school on Day 6 with the following precautions in place:

From days six - 10, students will keep their masks on at all times, including while outdoors, except when eating or drinking.

When masks must be removed for eating and drinking, these students will maintain six feet of social distance from others wherever possible.

Children who are not yet vaccinated, and who have been identified as close contacts of someone who has tested positive for COVID-19, will need to quarantine and learn at home for five days rather than 10.

Children who are fully vaccinated, and who have been identified as close contacts of someone who has tested positive for COVID-19 will not have to be quarantined at all.
Students who are directed to isolate or quarantine by the Office of Student Health and Wellness (OSHW) will continue to receive direct instruction from their teachers while they are learning at home.
Getting children vaccinated is not only the best way to keep them in school — it's the best way to protect them and others from being infected with COVID-19, and the best way to prevent severe symptoms if they do become infected. To date, the majority of CPS students ages 12 and up (nearly 53%) are now fully vaccinated and 1 in 3 students ages 5 - 11 have now received at least one vaccine dose. More than 90 percent of CPS staff are fully vaccinated.
Meanwhile, weekly on-site testing is continuing to increase across the District with more than 55,000 people now tested per week and steady progress toward each school testing at least 10 percent of their student population.
---
| | |
| --- | --- |
| | If you think you might be having COVID-19 symptoms, check in with 'Chi COVID Coach,' and they will check back with you via text message during your illness with information about what you and others in your household should do. Click Start Coach to begin. |
---
---
How Do You Know if a COVID-19 Testing Site is Legitimate
---
COVID Vaccination Clinic at Audubon
Audubon Elementary School will offer an onsite vaccination clinic for 1st dose, 2nd dose, and boosters against COVID-19. The first clinic will be March 1st from 10am-1pm and then again on March 22nd from 10am-1pm. This will allow all families and community members access to it twice, allowing both doses. To sign up, please see flyer below or click here.
Parents/caregivers are suggested to come on site if their child is signed up for vaccination at their appointment time. If you unable to come, but would like your child vaccinated that day, please email Principal Duffy at mmduffy2@cps.edu for the consent process. This clinic is open to all people, so please share with neighbors, friends, etc. The clinic will occur in the field house west space.
If your child is already fully vaccinated please stop by the main office Monday-Friday between 8am-2:30pm for us to copy and input the card in their system.
ick here to make your appointment.
---
Over the past several months, Teamsters Local 700 has participated in negotiations over the City of Chicago's COVID-19 Vaccination Policy. Local 700 and other unions have bargained over this policy through the Coalition of Unionized Public Employees (COUPE). On October 8, 2021, the City unilaterally implemented the COVID-19 vaccination policy.
Local 700 has opposed and continues to oppose the City's policy. Local 700 has maintained throughout this entire process that members must have the right to choose whether they wish to be vaccinated or not. Under the City's policy, beginning on October 15, 2021, employees that are not fully vaccinated will need to undergo twice-weekly testing in lieu of vaccination. However, your employer continues to insist that employees must be fully vaccinated on or before December 31, 2021, and the testing option will end on that date.
Members have the right to request an exemption from mandatory vaccination based on a qualifying medical or religious exemption. Medical and religious exemption forms are available by clicking here:
MEDICAL EXEMPTION FORM:
:

RELIGIOUS EXEMPTION FORM:

If you submit a request for a medical or religious exemption, be sure to keep a copy of the form you submitted for your records.
A copy of the City's policy is available by clicking here:


Additionally, any City employee that is fully vaccinated by October 15, 2021, will receive an additional personal day to be used by June 30, 2022. Fully vaccinated is defined in the policy as "an employee has either received their single dose (Johnson & Johnson vaccine) or both doses (Pfizer/Moderna vaccines) and two weeks have passed since the last dose was administered."
With the timing of the unilateral implementation and the October 15 deadline, it is impossible for any City employee that has not received a dose of the vaccine to obtain the extra personal day. "It's ridiculous that the City unilaterally implemented a vaccine policy that virtually excludes the incentive for employees to become vaccinated," said Ramon Williams, President of Teamsters Local 700.
Local 700 reserves the right to pursue any violations of the collective bargaining agreement, violations of the Illinois Public Labor Relations Act, and any other violations of state or federal law. Local 700, COUPE and other unions are meeting next week to discuss all legal options to fight this policy. Local 700 will continue to provide updates as events unfold.
Members with questions should contact their business agent at (847) 939-9700.
Page Last Updated: Sep 08, 2022 (07:07:42)